Commercial Manual and Automatic Door Specialist.
Businesses are always highly aware of the need for security of their premises. 
This includes secure, working doors. 
When it comes to door maintenance and repair, the business owner or manager must balance value for the investment of commercial door installation or repair. 
Obviously this is a job for a professional. 
Frequently the needs are immediate since no company wants to leave its operation vulnerable.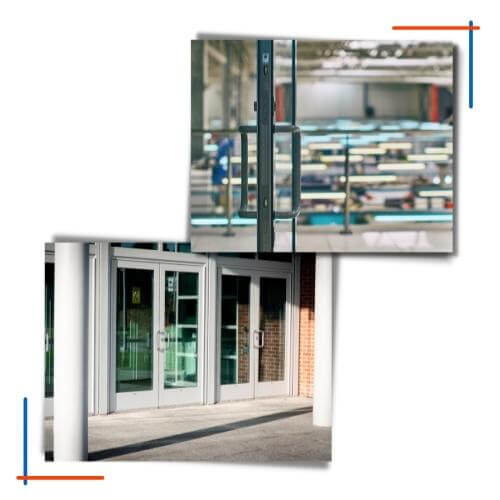 Common commercial door problems
Drafts coming in from outside
Door is closing too fast
Broken door hinges
Door frame starts to come apart

Your Door Won't Stay Latched
Common commercial door repairs
Door frame repair
Weather stripping replacement
Locks and handles repair
Burglary repair
Door Alignments
Door hinges replacement
Reputable Door and Lock Repair Services
That is why you should contact a reputable door and lock repair service. 
If your lock has been tampered with, a key broken inside the mechanism, door closer is leaking and the door is difficult to operate, or you simply need to replace them, contact our office. 
In most cases we can arrive within 35 minutes or less to assess the situation or to make the necessary repairs or adjustments.
Doors are equally as important. 
If your doors don't operate properly or efficiently, you are risking the reputation of your company and the safety of your employees and customers.
We value the relationship with our commercial clients and you will find we offer many amenities such as free online consultation day or night, long warranty, skilled workers who versed in the latest techniques and materials, and access to a wide range of products. 
We are always happy to have your comments and use them to improve our services.
Call us for any issues with door operations, whether you need emergency assistance, regular commercial door maintenance, or automatic door installation.
Our service offering includes:
Door/opening integration with electric, fire and safety
Automatic door and drive-thru window Maintenance
Security and building management systems
Preventative maintenance service agreements
Our tradesmen can repair all types of wooden, metal or screen door and windows as well as door frames and sliding doors.
Solid wooden doors
Fire rated doors
French doors
Screen Patio door
Sliding doors
Interior doors
Garage door
And more..
We have made it very easy for you to access our services. 
Log onto our website to be connected with one of our consultants.  This individual will ask you for all of the pertinent information like the nature of the problem, location of the building, and contact person. 
We will assign a specialist and advise you of the arrival time. 
If it is an emergency.
Our service personnel will arrive on site to verify the work to be accomplished. 
After an agreement is signed, we will arrange for the work to be completed. 
If parts need to be ordered or the repair is complex, we will establish a new date and time for the repairs. 
You will have several options for payment.