Door Installation Services
Replace your worn out door with expert door installers
Are you risking the safety and security of your family, employees, or property by ignoring necessary door service repairs or replacements? Are you throwing away money by air conditioning or heating the outdoors? Are you missing opportunities to maximize your curb appeal for your home and business?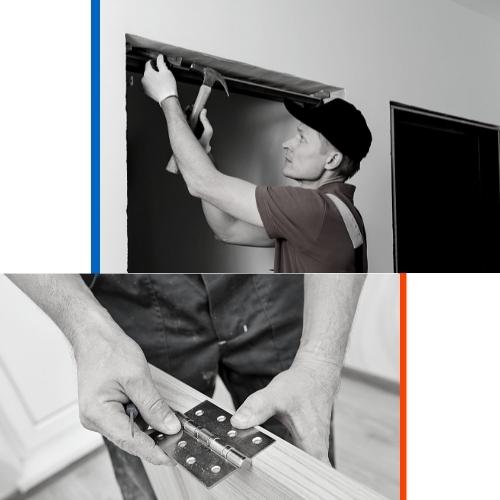 Benefits of Installing a New Door
Improve your energy efficiency
Add an extra layer of security and safety to your home
Update the look and curb appeal,
Reduce the amount of noise between rooms and from outside
Door hardware
Weather stripping
Door closers 
Door plates
And more..
We Raised the standard for door installations!
It may seem like an easy project to install a door by yourself.
However, here are a number of things that a door installation service expert handles:
Plumb – To hang either an exterior or interior door properly, both the wall and door frame should be plumb or evenly vertical.  In most homes and businesses, either or both are not in alignment.  A professional will understand how to adjust the frame or to shim against the wall to be sure the door works correctly and will not unexpectedly swing open or closed.
Level – Just like plumb, level is the bottom sill or threshold and it is seldom level, especially in older homes.  
Hardware – Using the correct hardware is important. 
Using a screw that is too small will allow the door to sag and scrape on the floor and warp. 
Eventually it will not work and you will need to replace the door again.
Shims – A shim is a slat or wedge that is used to keep the door plumb and level.  It is very easy to install a shim backwards or in the wrong place.  
Hire a Professional
As you can tell, hiring a professional to install your door is critical, particularly with exterior doors. 
It will save you time and frustration since the specialist understands the intricacies of how the door should hang so that it offers the best service and protection. 
An installer will also take care of the debris so you won't have to deal with any mess.  
The installation specialist also understands that doors come in different sizes, shapes, and materials. 
Exterior doors are far different from a closet door or a patio door. 
Using the appropriate materials to hold the door properly and ensure years of good service takes specific training and knowledge.
Some doors are quite heavy and knowing how to handle them can mean the difference between a damaged door (that still isn't hung) or personal injury and a secure door that is fully operational for years.
If you have any concerns, just contact us and one of our representatives will be happy to discuss our door installation service and arrange an appointment.  
Our tradesmen can install all types of wooden, metal or screen door and windows as well as door frames and sliding doors.
Solid wooden doors
Fire rated doors
French doors
Screen Patio door
Sliding doors
Interior doors
Garage door
And more..
Access GTA Door Repair through our contact page.
We have designed it so that you can have quick access to one of our consultants.
Our representatives are trained to help you navigate the process of our range of services, rates, and service agreement.  
During the conversation you can explain the details of your situation and together you can develop the best plan to have your door or lock repaired.
If your door is special in any way, we can discuss material availability.
We will explain the payment options and set an appointment day and time.