If you need door repair specialists who really know their trade, then you've come to the right place. Our door experts in Oakville have over a decade of of experience. 
Fast and reliable door repairs and replacements in Oakville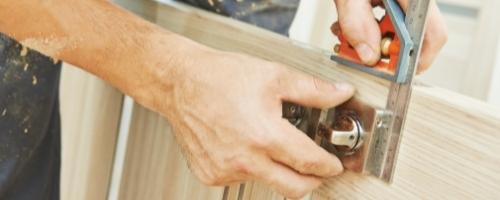 The front door of your home serves many purposes.  Initially it is a greeting to all who approach your home. 
It needs to be fashionable and in harmony with the architectural style. 
It needs to provide adequate security against the elements and possible intruders.  If your door is not functioning correctly or has become shabby looking, it is definitely time for repairs or a replacement.  
Common repairs include:
Door frame – Often the door frame will be victim to wood rot.

 

At the first sign of damage, contact a door repair service. 
If caught early, it will only need to cut out and replace the damaged portion.

 

If it spreads, you will need to replace the entire frame. 
If that is necessary, we offer materials that will resist moisture so that you won't need to worry about that again.
Gaps – If you notice light coming through the edges around the door, you probably have gaps that have formed through warping. 
This can mean drafts, sagging, and moisture coming in. 
we are able to remedy the situation by realignment, weatherstripping, or adjusting components.
Garage doors can also be problematic.

 

The mechanical parts that open and close the large doors can wear over time.

 

With a few repairs, you can be in fine shape again.

 

Some of our work includes:


Springs
Rollers
Cables
Weatherstripping
Our technicians are trained to offer the best solutions for your door needs. 
We begin by listening to your description of the problem and follow with an examination. We will explain any options and answer any questions. 
If you choose to have us complete the door repairs, we will be happy to do so.
If you have any concerns about the condition of your exterior doors, contact us at GTA Door Repairs. 
One of our representatives will be happy to schedule an appointment for one of our technicians to inspect the door. 
We work on all types of doors, screen and storm doors, sliding and pocket,  garage, patio, French, and interior doors. 
In fact, if your DIY efforts were not successful, we are happy to make the adjustments necessary so that you have properly installed and functioning doors for your home.
Our tradesmen can repair all types of wooden, metal or screen door and windows as well as door frames and sliding doors.
Solid wooden doors
Fire rated doors
French doors
Screen Patio door
Sliding doors
Interior doors
Garage door
And more..