Specializing in installation, service, and repair.
Markham Door Repair offer a wide variety of doors and security products for your home, business or commercial building.
Your local door company in Markham
When the need arises to have your home's doors repaired, this is the job for a professional. 
The work may seem easy but one small error can lead to more expensive problems. Here are some reasons you should consider a company that specializes in door repairs.
Neglecting Door Repairs, Door Installations, and Door Replacements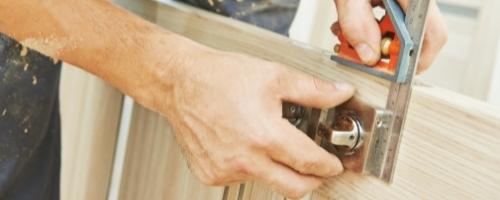 – Door Safety
Doors can be heavy.  Unless you know how to balance them and have the proper tools you could become injured. 
This includes broken glass, splintered wood, and breathing particles that could pose problems. 
At Markham Door Repair we take all necessary precautions to assure the work is completed properly and you, your family, and pets are safe in the process. 
Our company also maintains more than enough insurance coverage to deal with any injuries that may occur to our employees, relieving your homeowners policy of that burden.
– Damage door and frame 
Our technicians have the training to prevent any damage to surrounding areas as we make our repairs. 
We understand that could be costly for our customers.
 
In addition, we know what to look for during the repair process that may not be evident during normal use. 
By handling these issues now, you can prevent further problems in the future.
– House, building and condo code
Every area has its own set of regulations and building codes. 
These codes are revised periodically to conform to current safety standards.
Especially in older homes, the doors may not have been updated to accommodate these current regulations. 
We understand the local codes in Markham and will be sure your repairs are handled correctly and your home will be safer.
– Parts and Warranties
We have access to parts from a wide variety of manufacturers. 
We know what will and will not work in particular circumstances. 
In addition, we are able to pass on those warranties to you as the consumer. 
If you have noticed any problems with your doors like air leaks, chips and cracks, squeaks, difficulties in opening or staying closed, or anything that does not work smoothly, contact our office for an appointment. 
One of our team members will be scheduled to come to your Markham home or office and will assess the situation, offer our suggestions and options, and arrange for a time to complete the repairs you authorize. 
We work diligently to assure that our customers' needs are met or exceeded and that the work is done correctly the first time.
Our tradesmen can repair all types of wooden, metal or screen door and windows as well as door frames and sliding doors.
Solid wooden doors
Fire rated doors
French doors
Screen Patio door
Sliding doors
Interior doors
Garage door
And more..