Specializing in installation, service, and repair.
Mississauga Door Repair offer a wide variety of doors and security products for your home, business or commercial building.
residential & commercial door companies near me Mississauga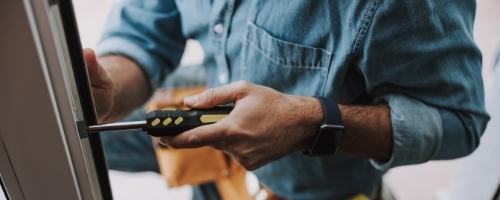 Doors are used every day and frequently take on some abuse.  When they become damaged, it is time to call a reliable door repair company. 
Keeping your doors, both interior and exterior, in good shape will provide value far in excess of any cost.
Safety – Doors that are not well maintained become more vulnerable to break ins and intruders.
Appearance – The main door of your residence reflects to anyone coming to see you as well as helping your relationships with neighbors. 
Curb appeal affects everyone on the block.

 

For a business, you need to present a responsible image of your company and can affect patronage.
Comfort – A damaged door can allow drafts, moisture, and other elements from entering the building. 
That impacts your HVAC bill as well as the comfort of your family or customers and employees inspect your weatherstripping at least once per year. 

 
Same day door repair in Mississauga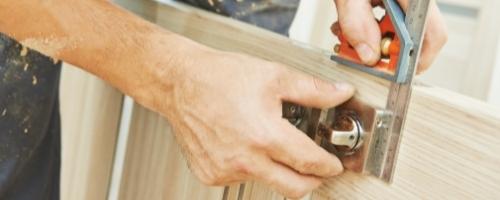 If you are not sure if your door warrants a visit from one of our technicians, here are some things to look for:
Sticking – If the door requires effort to open and/or close it securely, our repair person will give it a thorough review. 
It could be as simple as removing dirt from the hinges and edges of the door. 
The hinges could also need some adjustment.
The examination will also reveal if the edges of the door need some sanding to bring them into alignment with the jamb and frame.
Dents – Steel doors are prone to dents.

 

When that happens we sand the surface down to the metal and apply filler in layers until the door is returned to its smooth finish. 
After that we prime and paint it and you have a mar free door again.
Squeaks – If you have lubricated the hinges and still have an annoying squeak, it may be time for us to come by to remove the pin and carefully scrub the pin, barrel and leaves. 
After that we will apply a thin layer of silicone spray or penetrating oil and you should have silence again.
Frame – Frames can be damaged as well. 
We have the training and expertise to take care of this issue properly the first time.
Many of these repairs can involve removing the door to make the proper corrections, which is not a job for an amateur.  Contact us for any estimates or questions.
Our tradesmen can repair all types of wooden, metal or screen door and windows as well as door frames and sliding doors.
Solid wooden doors
Fire rated doors
French doors
Screen Patio door
Sliding doors
Interior doors
Garage door
And more..